New in Fabman: Billing overview for members, improved member landing page, and more
We've just released two major improvements for the member portal. Here's a quick overview of what's changed.
Invoices & charges
Members can now see & print their invoices and check recent charges. If they are on a prepaid plan, they can also see their current credit balance.

Head over to your account settings and enable "Billing for members" to add this new section to your member portal:

(It's enabled by default for new Fabman accounts.)
Contact info, opening hours and holidays
The member landing page got a new info box that shows the contact details, opening hours, and upcoming holidays for your space.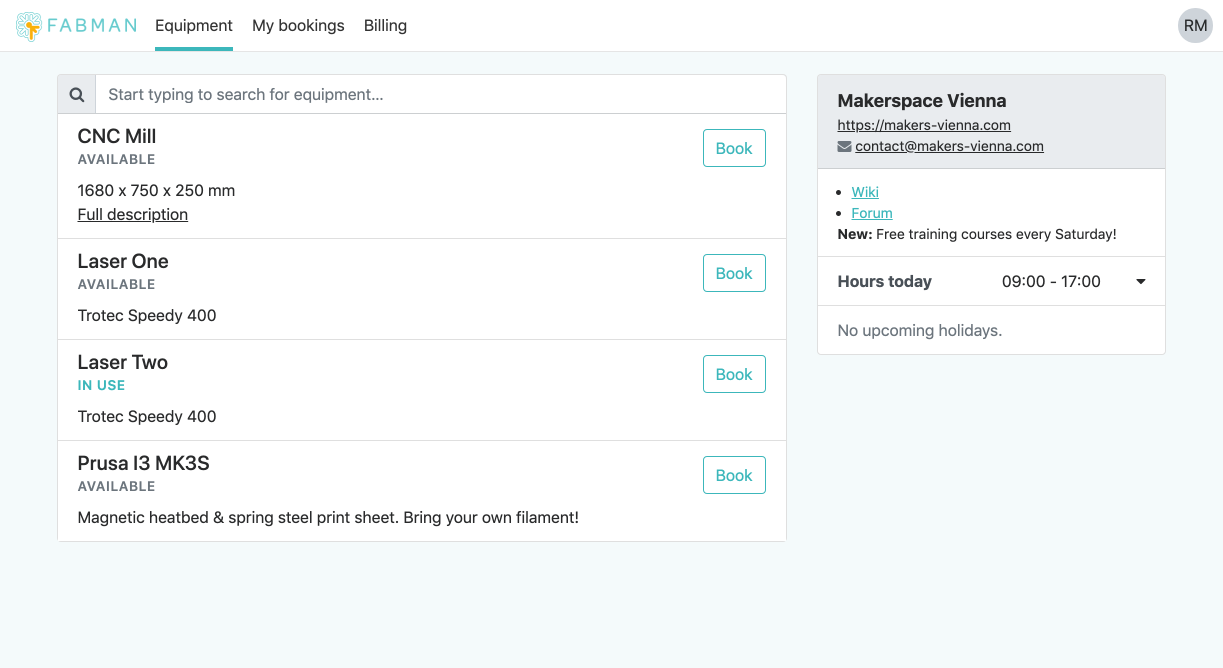 Have you noticed another detail in the picture above? You can now add custom text, including links and text formatting, to your member portal. It's great for linking to your community wiki, forums, or material shop. Or use it to remind members of news or changes in your lab.
How? Go to your space's general settings and experiment with the "additional info for members" section.
Other changes
As always, we've released several other improvements and fixes. Here are the most important ones, if you're curious:
We've used the opportunity to improve the look of the member portal's booking list, especially on mobile devices.
If you have multiple spaces, you can now assign each space a short name to de-clutter space lists and tabs.
Fix: When editing activity log entries, the time field complained when you entered seconds – at least in some browsers.
Fixed an issue when editing check-in logs via the API.
Fix: members couldn't see more than 50 of their bookings in the member portal.
We now tell you why you're redirected to select a different pricing plan when you try to add webhooks to a Basic account or multiple spaces to a Standard account.
Removed the "first day of month" cutoff date from the "Create invoices" screen. It's no longer necessary because all recurring charges have been created at the end of the month for a while now.
---
Give these improvements a try and let us know what you think! What do you like? What's missing?